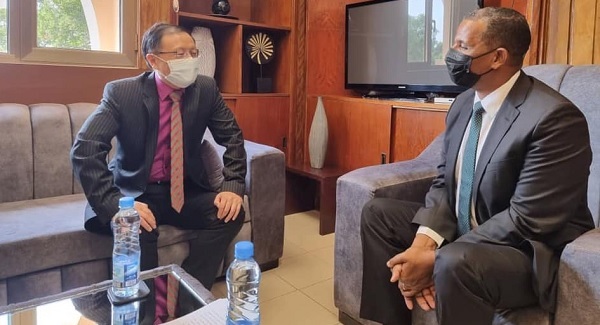 Addis Ababa, November 15/2021 (ENA)  Ethiopians are determined to defeat the terrorist TPLF that is working to dismantle the country, Ethiopian Ambassador to Djibouti Berhanu Tsegaye said.
Ambassador Berhanu Tsegaye received and held talks with the newly appointed Chinese and Cuban Ambassadors to Djibouti, Hi Bin and Marcelo Caballero Torress as well as Japanese Ambassadors to the AU and Djibouti, Horiuchi Toshihiko and Otsuka Umia, respectively.
Welcoming the newly assigned Ambassadors to Djibouti, Ambassador Berhanu affirmed his office's readiness to work closely in areas of common interest.
According to Ministry of Foreign Affairs, the two sides have also held talks on the current situation in Ethiopia.
The Ambassador, in his discussions with his Japanese counterparts, said Ethiopians are determined to defeat remnants of the TPLF that vowed to dismantle the country.
He added, the journey to democracy and prosperity has started, and Ethiopians will not allow evil forces from within or outside to halt it.