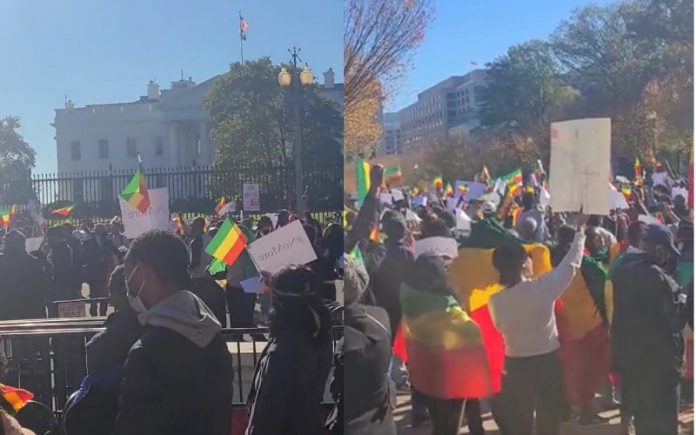 November 9/2021 /ENA/  Ethiopians in the U.S. have held a demonstration in support of the fight against the heinous acts of the terrorist TPLF to dismantle Ethiopia and protesting against the U.S intervention in the internal affairs of the nation.

The demonstration was held on Monday under the theme "We Will not Compromise on the Existence and Unity of the Country" in collaboration with Peace and Unity for Ethiopia Task Force in DC and other devoted Ethiopians and various institutions.
"US, Stop Interfering in Ethiopia and Respect Ethiopia's Sovereignty ", "Ethiopia will not accept the orders of others for its Affairs", "Ethiopia won by Adwa not by AGOA", "CNN, Stop Disseminating Fake news on Ethiopia ", and "Ethiopia defeated colonialists and will defeat neo-colonialists" were among the slogans chanted by demonstrators.
"Ethiopia is an Ally, Not an Enemy" was also one of the placards displayed during the demonstration.
The protesters also called on some of the so called international media outlets to stop disseminating fake news and disinformation about Ethiopia.
Ethiopians across the national have also been rallying in support of the national call to defend the country from the conspiracies of TPLF and its foreign allies.