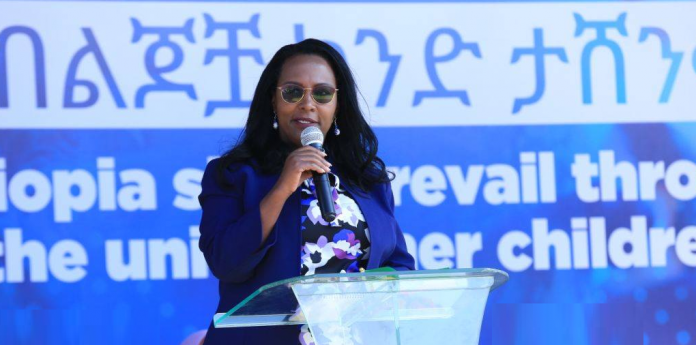 Addis Ababa November 7 /2021  /ENA/  The external pressures to deprive the freedom, dignity and sovereignty of Ethiopians will never be acceptable, Addis Ababa City Mayor Adanech Abiebie underscored.
The Mayor made the remark to the huge demonstrations held in Addis Ababa on Sunday in support of the national call made by the government to defend the country from the heinous acts of the terrorist TPLF being orchestrated in collaboration with internal and external allies.  
In the occasion, the Mayor said the purpose of the ongoing external pressures including the economic sanctions is to force Ethiopians kneel down to external interests.
However, she underlined that Ethiopians will never exchange their freedom, national pride and sovereignty for any kind of aid.
Instead, Ethiopians will stand together to resist the ongoing unjust pressures by working hard to fight against poverty, she said noting that the people of Ethiopia prefer to live in poverty than give up their national dignity.
Noting that Ethiopians respect the dignity, freedom and sovereignty of others, the Mayor stated "however, we will never allow anybody to undermine our freedom, dignity and sovereignty."
"Ethiopians are now expressing their readiness to sacrifice the utmost cost in order to reverse attempts being carried out by external forces to deprive their freedom, dignity and sovereignty using several strategies including economic sanctions."
She further pointed out that Ethiopians will never be terrorized with the falsely fabricated lies and propaganda being disseminated through foreign media in favor of terrorist TPLF group to destabilize Ethiopia.
The terrorist TPLF group, which is the Trojan horse of external enemies, will be defeated with the strong collaborative struggle of Ethiopians, she pointed out.
Ethiopia will prevail, she noted, adding that she called on Ethiopians to join the Ethiopian National Defense Force and protect their environs from anti peace elements.
The residents of the city today chanted slogans protesting foreign interference in the internal affairs of Ethiopia, the inhuman acts being orchestrated by the terrorist TPLF and its allies on innocent Ethiopians.
They have also expressed readiness to pay the utmost sacrifices in order to protect the sovereignty and unity of Ethiopia by fighting the terrorist groups TPLF and Shine.
Similar demonstrations have been staged across the country since the last few days.
"