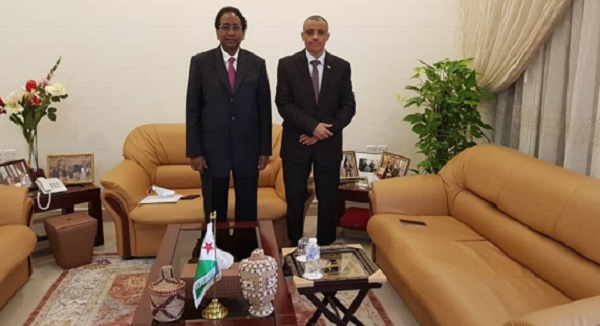 May 19 /2021 (ENA)  Ethiopian Ambassador to the State of Kuwait Hasen Taju discussed with the Dean of Arab Ambassadors group and Ambassador of the Republic of Djibouti to Kuwait Mohammed Ali Moumin on issues of common concern between the two friendly countries.
At the occasion, Ambassador Hasen stated Ethiopia and Djibouti enjoy exceptional ties in myriads of sectors including security, economy, and trade and said Ethiopia highly values the relationship with the republic Djibouti.
Highlighting the reasons that forced the government of Ethiopia to carry out the law enforcement operation in Tigray, according to Ministry of Foreign Affairs, he briefed the recent status of the region, government's humanitarian relief efforts, and its commitment to working with the international partners to respond to the humanitarian crisis in the region.
He also affirmed that the government has provided full and unhindered access for humanitarian actors to operate in all parts of the region.
On the GERD, the Ambassador expressed that the dam is a flagship hydropower project being built by the Ethiopian people with greater commitment; and utilizing the Nile water resources is a matter of existential priority for Ethiopia to meet its energy, water, and food security needs for its 110 million people.
He indicated that Ethiopia contributes 86 percent of the Nile flow and currently more than 65 million Ethiopians have no access to electricity while at the same time the country's energy demand is growing rapidly.
"It is, therefore, Ethiopia's sovereign and legitimate right to utilize its water resource to meet the needs of its rapidly growing population," Ambassador Hasen added.
Clarifying Ethiopia's position on the trilateral negotiations on the GERD, the Ambassador underlined that Ethiopia firmly believes the management and utilization of the Nile should be based on the internationally recognized principle of equitable and reasonable utilization causing no significant harm and cooperation.
The ambassador also stated that GERD has so many advantages for the downstream countries by ensuring regular water flow, enhanced sediment management, and water-saving.
With regards to the Ethiopia-Sudan boundary dispute, the Ambassador reiterated the invasion of Sudan is a flagrant violation of international law and affirmed Ethiopia's resolve for peaceful settlement under the existing normative and institutional mechanisms between the two countries.
Commending on the exemplary social economic and people-to-people relation between the two countries, Ambassador Mohammed, on his part, said Ethiopia's peace and stability is very vital to Djibouti and the whole region as well.
The Ambassador also said the GERD is believed not only to benefit Ethiopia but also facilitate economic integration by speeding up infrastructural interconnectivity in the region.
Finally, he appreciated Ethiopia's diplomatic and peaceful approach to the settlement of the controversy with Sudan and expressed his hope that the boundary issue will be solved amicably.