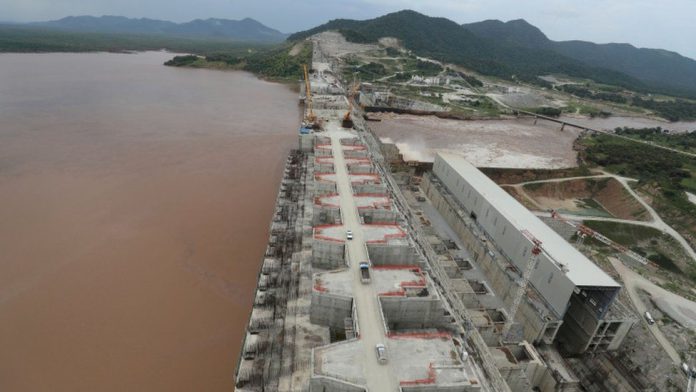 BY SOLOMON DIBABA, ENA
Ten years have now elapsed since the ground breaking ceremony has been conducted in 2011. Forced by the diplomatic maneuvers made by Egypt in blocking foreign loan for the construction of the Grand Ethiopian Renaissance Dam (GERD), Ethiopia resorted to building the dam by massive public financial contributions made in the form of purchase of bonds and financial donation from Ethiopians and citizens of Ethiopian origin, here and in the diaspora.
With the tripartite negotiations which moved in ebb and flow and currently stalled, Ethiopia has managed to complete 80 percent of the average construction work on the dam and preparing for the second round of filling GERD during the onset of the next rainy season.
Ethiopia has repeatedly notified the world and the lower riparian countries that it is constructing the dam to generate a hydroelectric power source in its own territory and from its own natural resource, the Blue Nile.
Experts in the field of hydrology and hydroelectric power generation estimated that Africa generates only 4 percent of the global electric power generation out of which more than 75 percent is utilized only by South Africa, Egypt and a number of North African littoral countries. Only 24 percent of the African population has access to electricity while in Ethiopia more than 60 percent of the population have no access to any form of electric power. However, the country's electric power demands in soaring to about 34 percent over the current and next five years.
Ethiopia started to construct GERD firmly basing itself on international laws and principles that govern the utilization of Trans-boundary Rivers and other relevant international conventions which call for equity, information exchange and transparency and ensuring that no harm is inflicted on any riparian country.
In his recent exclusive interview with SUNA, Dr. Osman Altoom Hamed, the former minister of Water Resources of Sudan, confirms the exact purpose of GERDP saying the:
Blue Nile can be used only for generating hydroelectric power and there is no possibility for irrigation as the waters from the Blue Nile come through gorges from the highlands of Ethiopia. Any hydroelectric power is beneficial for Sudan.
He also mentioned that the construction of GERD is beneficial for Sudan and Egypt because the dam helps to regulate a regular flow of water throughout the year even in times of drought. He further noted that Sudan and Egypt do not need to store extra water.
The former minister noted that "Egyptians should change their mind, this mentality of having the same amount of water. They should think not in terms of sharing water but the benefits."
Mr. Hamed noted that Ethiopia and Sudan need to work on economic integration which could also include Egypt. He added that Sudan, Ethiopia, Egypt, Eretria and South Sudan need to work on the formation of Eastern Nile Economic Block by 2030. This block, according to him, will facilitate the exchange of hydropower for agricultural products produced through massive irrigation projects in Sudan.
Tesfa, Belachew (2013) from the University of Huddersfield, UK presented a number of benefits that Sudan and Egypt can get from GERD on his Discussion Paper. EIPSA Communicating Article: Energy, Water, Environment & Economics.
He stated that GERD will produce more than 6,000 MW of hydroelectric power with the capacity to produce 1531 GWH per year tripling the country's hydroelectric power capacity and will also help to remove silt and sedimentation from dams in Egypt and Sudan ensuring regulated flow of water.
Among other things, through its impact on improvement of the eco-system, GERD will help to mitigate drought and sporadic floods which could harm Sudan in particular. This was confirmed by the reduction of flood disaster that was controlled even by the first round of filling GERD.
All the more, the final completion of GERD will markedly reduce the cost of maintenance for irrigation infrastructure and drenching cost for Sudan helping the country to save 50 million USD every year.
Sedimentation removal in all the dams in Sudan and Egypt will be reduced by 86 percent when the GERD enters into full operation. Similarly, GERD will help to reduce the rate of evaporation on Aswan High Dam from 10.8 BCM to 9.5 BCM.
The advantages that Ethiopia, Egypt and Sudan can get from GERD is not limited to visible technical advantages that particularly Egypt and Sudan can get but goes beyond that. GERD is a sustainable tool for promoting people-to-people relations that have been kept between the peoples of the three countries for thousands of years. It would help to promote tourism through possible investments in resorts and hotel development for tourists.
GERDP could serve as a center for scientific researches on hydrology if projects are formed and implemented through cooperation between the universities in all the three countries and beyond. Besides the venue could be an excellent location for local and international completions in rowing and canoe which is already popular in Sudan and Egypt.
In addition, the final completion of GERD will provide an excellent opportunity for investment in the development of fishery with its 74 BMC capacity of water storage. This also implies that it will introduce a new input in preventing malnutrition in the country by increasing the intake of micronutrient components of balanced food for children, adults and the aged.
In addition, as GERD provides an excellent structure to conserve water in the highlands of Ethiopia, Sudan and Egypt need to cooperate and support Ethiopia's efforts to ensure watershed and catchment management on the Blue Nile to ascertain their common advantages.
All the above-mentioned facts indicate that Ethiopia, Sudan and Egypt can benefit from GERD in so many ways pushing aside political and diplomatic confrontation with viable comprehensive cooperation that can benefit the peoples of the three countries.
Politicizing the GERD issue for the sake of gaining political advantages at home will only further tarnish the relationship between the three countries. Drumming up for war and hatching conspiracies and propaganda warfare by turning GERD issue into diehard international politics will never tally with the basic interests of the peoples of the three countries. Confrontation in any form is destructive but cooperation, mutual trust through exchange of information and continuous negotiations is the order of the day.
One needs to realize that the current situation between Ethiopia, Sudan and Egypt is further amplifying the necessity of negotiations as the only objectively reliable solution to the stalemate. Wasting time on war mongering and misinformation campaign targeting Ethiopia does not help to ease political tensions both in Sudan and Egypt and may even backfire towards worsening political crisis in their respective countries.
It is also very important to realize that underestimating Ethiopia's capacity to develop its economy by using its own resources as a matter of a legal right for a state which is the founding member of the former League of Nations, the UN, AU and the None Aligned Movement.
Ethiopia is working and will continue to work on economic integration between African countries and will never stop from working for peaceful development on the continent and the sub-regional institutions like IGAD. In this context GERD is a symbol of peace and mutual cooperation.