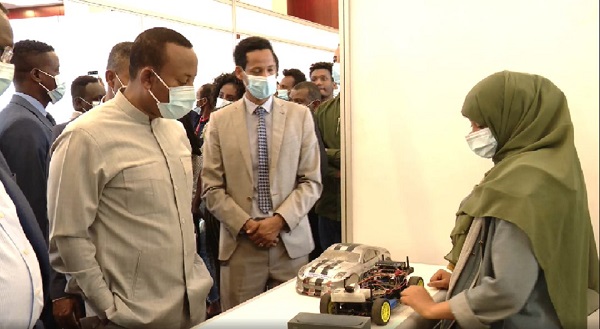 Addis Ababa, April 17/2021(ENA) Prime Minister Abiy Ahmed visited the first-ever Ethio Artificial Intelligence Workshop and Expo today.

A four-day artificial intelligence workshop and expo has been underway under the theme: "Artificial Intelligence for All" and it has brought about 40 local artificial intelligence practitioners and global companies.
Abiy visited the prototype products displayed at the expo.
According to Artificial Intelligence Center Communication Director Tesfaye Zewde the workshop and expo would play pivotal role in identifying the major bottlenecks in various sectors of the country and suggesting technological solutions.
"I think this workshop and expo is really important first to realize what are the sectoral problems in the country and create a scientific solution to the problem of how technology can solve the problems," the director elaborated.
The director noted that even if artificial intelligence is a new phenomenon in Ethiopia, the country has been registering commendable achievements that would help it to accelerate its economy.
A participant of the workshop and expo, Huawei Cloud Business Northern African Region Director Winter Chenrong said as Huawei is a leading technology in artificial intelligence it would give the necessary support to Ethiopia in its artificial intelligence development.
"Actually, I think there are several types of support that we will provide to Ethiopia. First, we are thinking of our artificial intelligence engineers from the Huawei Cloud Business platform and to use this resource for the fast development of artificial intelligence. We will also help them how to integrate the market models in this area and cooperate with various Ethiopian ministries to develop the cloud model," the director stated.