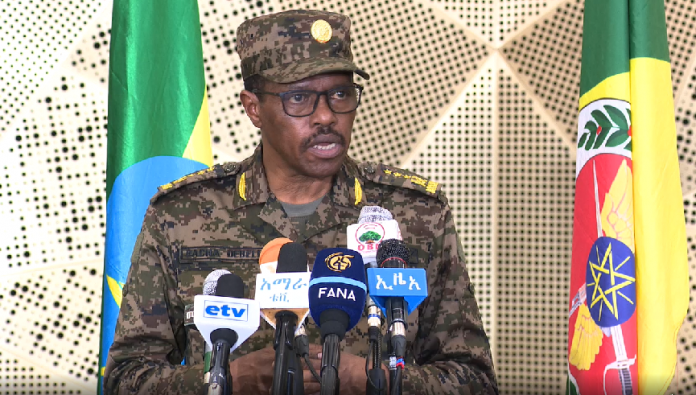 April 13/2021(ENA) The TPLF Junta groups operating in eight different places in Tigray Region are wiped out, Defense Force Army Building Works Main Coordinator Lieutenant-General Bacha Debele said.
Briefing the media today on the operations carried out by the National Defense Force over the past week, Lieutenant-General Bacha stated that the junta groups operating in eight different areas of the region and small military training camps were fully destroyed.
The junta chose to stay in these areas, namely Atsbi and Haikemsa, Desa, Wejerat, Bora, Tsigereda, Hawzen, Wukro Maray, and Zana, in order to disrupt daily access of the communities to humanitarian assistance by closing the main roads leading to Mekelle, he explained.
The fugitives also disseminated propaganda which give the impression that they are formidable and would return to power, Lieutenant-General Bacha revealed.
However, many bandits were destroyed and numerous have surrendered to the defense force.
According to him, the bandits have reached a point where they can no longer get organized or carry out banditry.
Now the junta surviving leaders are desperately trying to get out of Tigray to Sudan, he said, adding that all the routes are sealed and they cannot escape.
He further revealed that this last operation was aimed at eradicating the insurgency and the defense forces have taken strong measures that will continue until the scattered fighters are put under full control.