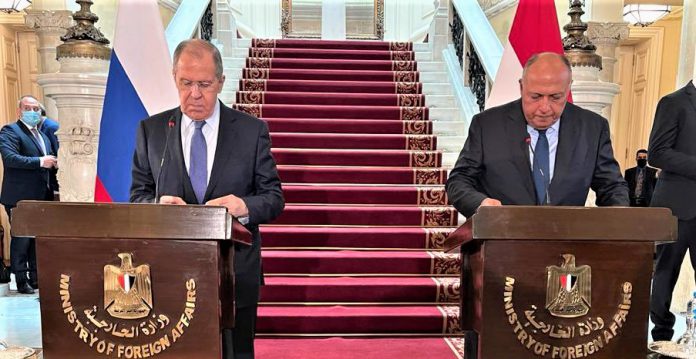 Addis Ababa April 13/2021 (ENA) Differences over construction of the Grand Ethiopian Renaissance Dam (GERD) should be resolved exclusively by the interested states through a dialogue, Russian Foreign Minister Sergey Lavrov said.
He made the remarks at a joint press conference with his Egyptian counterpart Sameh Shoukry on Monday in Cairo, TASS reported.
"As for the Renaissance Dam, our Egyptian friends have been bringing up this issue for a while already," Foreign Minister Sergey Lavrov said.
He further specified that "We are sincerely interested in settling it. It is possible to do so only by the three interested states. All others should create the necessary conditions for it."
The minister reiterated that the Russian leadership had offered the involved parties to perform a technical evaluation and an analysis by experts in the sphere of hydropower.
Russia supports African tradition of resolving African problems by African countries themselves and this should be manifested in the African Union led tripartite negotiations, he said.
"We support this principle of finding African solutions to African problems most actively, not just on this but also on every other issue, including conflicts that remain in Africa," he emphasized.
Russian Foreign Minister, who is on a visit to Egypt, was received by the Egyptian President Abdel Fettah Al Sisi and held talks with the Egyptian Foreign Minister.
He also held a meeting with Secretary General of the Arab League Ahmed Aboul Gheit, it was reported.