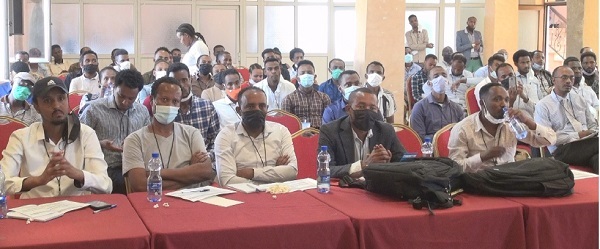 Addis Ababa, April 5/2021/ENA/   Assosa University announced that it has been conducting research on development projects which could be carried out by using the Grand Ethiopian Renaissance Dam (GERD).
A workshop under the theme "Research for Production and Productivity" was accordingly conducted in Assosa, the regional city.  
During the occasion, University Research and Community Service Vice President Haimanot Disassa said the university is carrying out research on development projects which could be executed when the GERD becomes operational.
Among the areas the research focuses on include fishery and related activities that will be carried out on the artificial lakes to be built along with the dam, it was learned.
Hotel and tourism is the other sector to be given attention, Haimanot pointed out.
According to the vice president, the university has been conducting additional research on alternative ways and methods of developing the above identified business options.
More than 100 academics and stakeholders have attended the workshop.
Construction of the Grand Ethiopian Renaissance Dam has reached 79 percent and the second phase filling of the dam will take place this rainy season.