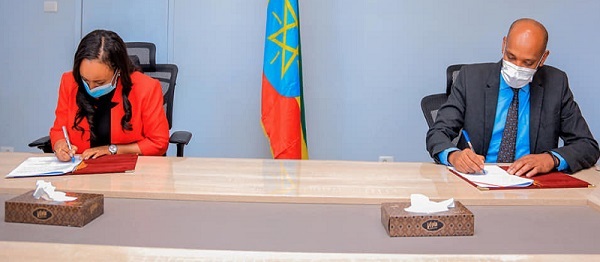 Addis Ababa, April 5/2021/ENA/ Planning and Development Commission of Ethiopia and World Resources Institute have signed a memorandum of understanding (MoU) that enables them to work together in areas of economic growth, institutional change and capacity building as well as other related issues to climate change.
The MoU was inked by Planning and Development Commissioner Fitsum Assefa and World Resources Institute representative Aklilu Fikreselassie.
According to press release of commission, the memorandum would enhance technical and analytical capacity for evaluation of development plans.
Accordingly, the institutions will jointly prepare plan and policy drafts, and consolidate capacity building in evaluating the impacts of climate change on poverty, among others.
The agreement also includes jointly preparing workshops, seminars and symposia in order to share researches jointly conducted, it was learned.
Furthermore, the agreement has included the building of a research center to enhance the capacity of new professionals in climate and economic growth by providing training.
Provision of support for knowledge transfer and strategic partnerships with international and national stakeholders is again incorporated in the MoU.
World Resource Institute (WRI) is interested to contribute to scientific research related to socio-economic, environmental and climate change in Ethiopia.
In this regard, the institute aims to strengthen cooperation with governmental and non-governmental organizations, the private sector and the education sector, it was pointed out.
WRI is a global research organization that spans over 60 countries with offices in the United States, China, India, etc.