April 1/2021/ENA/   New Ambassadors of Canada, Israel, and Bangladesh have presented their credentials today.
Protocol Affairs Director-General at Ministry of Foreign Affairs, Feisel Aliyi received the credentials.  
He warmly welcomed the ambassadors and said Ethiopia is keen to further strengthen its relations with the respective countries.
During the occasion, Ambassador Stephane Jobin of Canada pointed out his commitment to further strengthen the long-standing bilateral ties of the two countries.
He expressed interest to expand the vibrant political relationship to trade, investment and development issues as well.
The status of the humanitarian assistance in Tigray, the Covid-19 vaccination, and issues of economic development were discussed as well.
Ambassador Aleligne Admasu of Israel described the unwavering friendly relation between the two countries and the cultural and historical ties of the brotherly people.
He vowed to enhance investment and diaspora engagement between the two countries during his tenure according to Ministry of Foreign Affairs.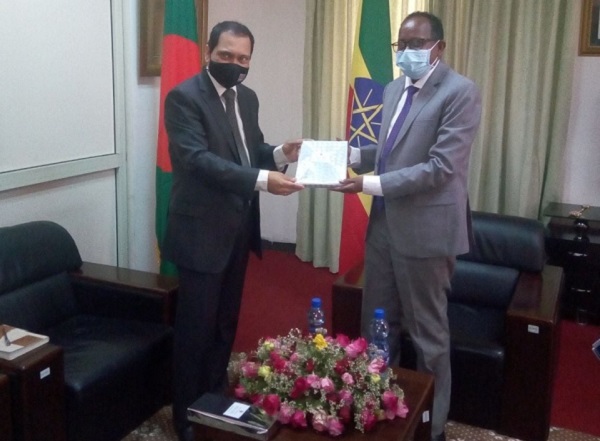 Ambassador Md. Nazrul Islam of Bangladesh expressed the commitment of his country to further strengthen relations in economic diplomacy, investment, and trade.
Protocol Affairs Director-General Feisel reiterated on his part Ethiopia's commitment to work in areas of irrigation, trade, technology, and knowledge transfer to further reinforce bilateral relations with the countries.