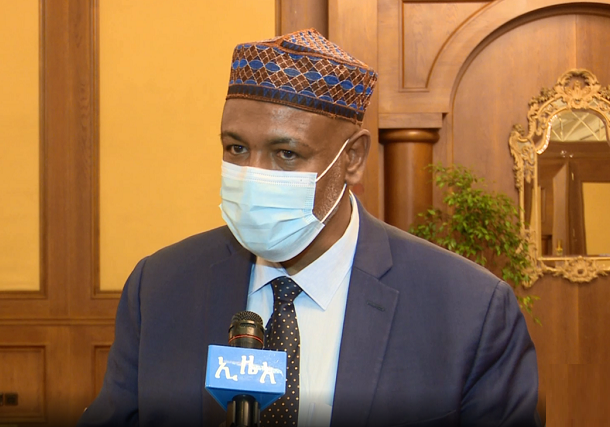 April 1/2021/ENA / Djibouti and South Sudan have expressed interest to join Ethiopia's Green Legacy Initiative, following the offer of the Government of Ethiopia to provide 1 billion seedlings for the East African countries, Ministry of Agriculture disclosed.
Ethiopia has been preparing 7 billion tree seedlings for its third year tree planting campaign, out of which onee billion will be allocated to the neighboring countries so as to expand Ethiopia's Green Legacy Initiative.
Agriculture State Minister, Sani Redi told ENA that neighboring countries have been showing interest to join the initiative.
"So far, Djibouti and South Sudan have shown interest to take their shares as they have been preparing to receive the seedlings," he said.
As climate change is a regional and global threat, Sani hopes that other invited East African countries will follow suit to fight the challenge together.
The state minister stressed that Ethiopia shares 1 billion tree seedlings not because it is in a better position, but because of concern about the challenges the region is facing in terms of climate change and to encourage collaboration with other nations to mitigate the problem.
"We have invited all East African countries to be part of the initiative with a view to developing together for the challenges of climate change have been affecting the entire region without any barrier that requires strong collaboration at sub-regional, regional and global level," Sani noted.
Despite the upcoming general election and the challenges of COVID-19, among others, the nation is determined to continue with the Green Legacy Initiative by planting 6 billion seedlings this year.
Over 110,000 sites are now preparing saplings and over 3.24 billion tree seedlings have been readied, it was learned.
Regional states of Ethiopia bordering the neighboring countries have also been informed to produce saplings so that they could share them with adjacent neighboring countries or states.
Afar, Amhara, Benishangul-Gumuz, Gambella and Oromia regional states are the regions preparing the tree seedlings for the two countries.
The Green Legacy Initiative launched in 2019 aspires to plant 20 billion trees in Ethiopia in four years.
The national initiative is led by steering and technical committees drawn from ministries of Agriculture, Water, Irrigation and Energy, Innovation and Science, Education, Urban Development and Construction, and Environment, Forest and Climate Change Commission.