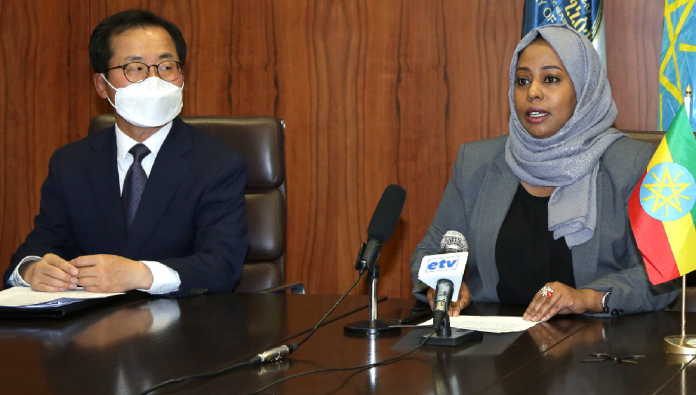 March 23/2021(ENA)Ethiopia and South Korea have today inked a 32 million USD grant agreement that will help Ethiopia to achieve the development endeavors on the basis of the Ten Years Prospective Plan and SDGs.
State Minister of Finance, Yasmin Wohabrebbi and Korea International Cooperation Agency (KOICA) Country Director Kim Dong Ho signed the agreement.
According to the agreement, KOIKA will provide support to undertake three projects in Ethiopia for the coming five years with a total budget of 32 million USD.
The projects include rural agricultural value chain improvement through linking small farmers with rural Transformation Center.
Implementing of climate resilience forest and landscape restoration as well as supporting watershed development master plan for Addis Ababa city cleaning upstream of Sheger river are also part of the agreement.
Speaking on the occasion, KOICA Country Director Kim Dong Ho said Ethiopia and South Korea have strengthened economic cooperation and they are implementing more than 14 bilateral programs that are highly relevant for Ethiopia's economy.
He stated, "The budget for the three projects is among the highest allocated budget compared with our past grant aid programmes performance in the past years."
The Country-Director reassured that KOICA will continue to enhance the socio-economic effort of the country in the upcoming years.
State Minister, Yasmin Wohabrebbi on her part said the financial agreement signed today marks hard work and close coordination between the government of Ethiopia and South Korea.
She also stated that the existing cooperation between the countries is an indicative of the mutual respect "we have for one another, as well as our shared interest in creating a more sustainable partnership.