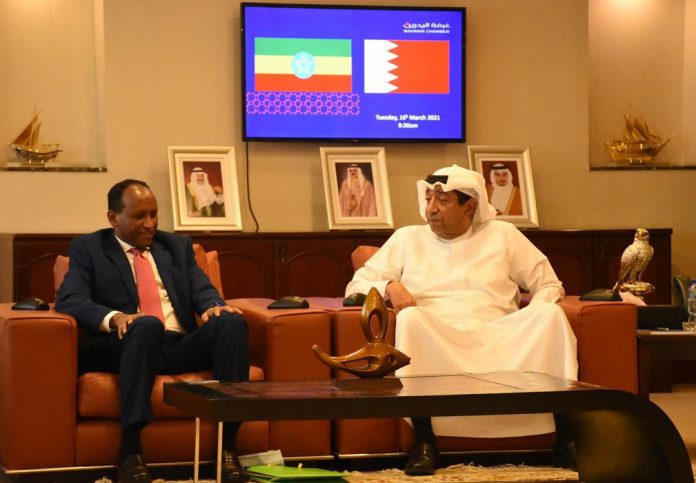 March 18/2021 /ENA/ Bahrain Chamber of Commerce and Industry expressed interest to engage in trade and investment activities in Ethiopia.
Chairman of Bahrain Chamber of Commerce and Industry, Sameer Nass disclosed this during his discussion with head of Ethiopia's Mission in the Kingdom of Bahrain, Ambassador Jemal Beker.
The two have discussed a range of issues on how to strengthen trade, investment, tourism, and business between the countries, according to Ministry of Foreign Affairs.
During the occasion, Ambassador Jemal explained about the reform Ethiopia is undertaking.
According to him, the reform creates huge opportunities for Foreign Direct Investment (FDI) through market liberalization, incentive packages, easy rules and regulations of investment, availability of a one-shop service, abundant trained skilled labors and competitive clean energy.
Chairman of Bahrain Chamber of Commerce and Industry Sameer Nass for his part said his country is keen to work in Ethiopia in various sectors.
Agriculture, agro-processing, manufacturing, and services are of their interest to pursue in Ethiopia.
He further reiterated the Chamber's commitment to work closely with their counterpart and sign the MoU exchanged during the opening ceremony of the Mission.
Finally, the two sides agreed to work hand in hand so as to strengthen the trade, investment, tourism and business relationship between the two sisterly countries and brotherly peoples.