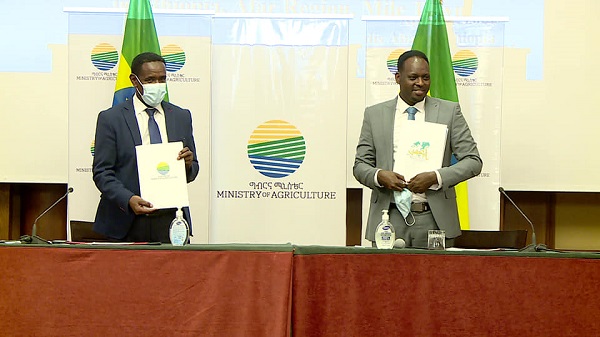 Addis Ababa March 11/2021(ENA) Ministry of Agriculture has signed contractual agreements with National Airways and the Saudi company Mohamed Hamid Aleisa EST today. 
The agreements for procurement and management of aircrafts, and managing Mille Quarantine Center would encourage private sector investments in the agriculture sector, according to Agriculture Minister Umer Hussein.
National Airways, a local company, will procure and manage aircraft for desert locust control, while the Saudi company will take over the management of the quarantine center for 10 years contract.
During the signing ceremony, the minister said the economic reform encourages private sector investment in all sectors, including agriculture.
Umer added that the Home Grown Economic Reform prioritizes private sector investments in the sector.
It is to be recalled that Ethiopia spent 4.8 billion Birr to control desert locust in the past 20 months.
The Mille Quarantine Center with a potential to treat 400,000 export animals per year has been ineffective by treating only 60,000.
This agreement with Mohamed Hamid company helps to export quality live stocks with better standard and quantity, it was learned.
Mille Quarantine Center is the biggest quarantine center in the country constructed with 120 million Birr.