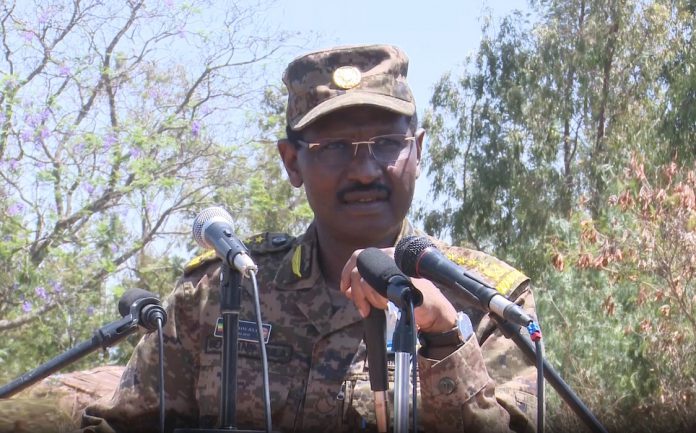 Addis Ababa March 4/2021 (ENA) Chief of Staff General Birhanu Jula laid cornerstone for the construction of a new building for airborne training school at a cost of 170 million Birr.
 On the occasion, the Chief of Staff said efforts are being exerted to scale up the airborne force into a parachute regiment.
Construction of the additional new building for the more than 60 years old Airborne Training School is expected to be completed within a year, it was learned.
According to General Berhanu, the paratroopers have been immensely contributing to the national defense force during the worst times.
He commended the Special Operation Force for training the airborne force to fight in difficult terrains and terrible conditions.
The Chief of Staff, who recalled the reform carried out in the defense forces, stated that efforts are now underway to leverage the brigade-level airborne forces into airborne division.
He noted that the old training school had not been renovated for a long time and was in a bad state.
"Therefore the defense forces decided to construct a new building from its limited resources because of the importance of having a better facility for training paratroopers," the general stated.
General Berhanu urged the airborne to work diligently and heroically in view of the responsibility it is entrusted with to defend the country and the people.
Paratroopers performed on the occasion air jumping show at the training school.