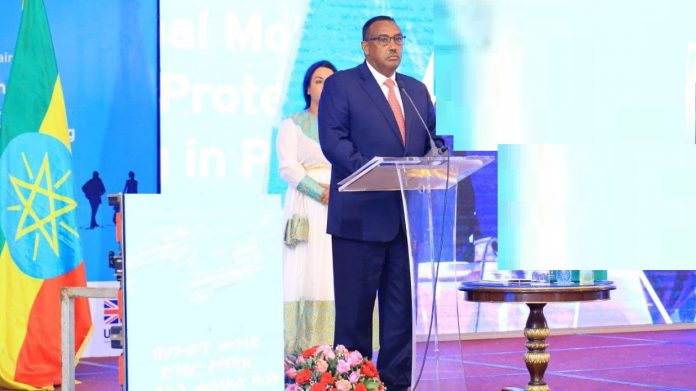 Addis Ababa March 3/2021 (ENA) The root causes of the vicious cycle of irregular migration must be drained, Deputy Prime Minister and Foreign Affairs Minister Demeke Mekonnen said.
A National Mobilization Conference on the Protection and Suppression of Trafficking in Person and Human Smuggling was held today.
The deputy premier said on the occasion that the government is committed to drain the root causes of illegal migration in Ethiopia.
The government will continue working with the pertinent stakeholders and partners to effectively prevent irregular migration by raising public awareness, tightening citizen diplomacy and strictly enforcing the law, he stated.
According to him, mainly economic drive makes Ethiopians pay for illegal human traffickers and migrant smugglers to travel in a precarious condition and face rights abuses, prison and exploitation in different countries.
A recent study showed that more than 34,000 Ethiopians are in terrible conditions in Saudi Arabia and the government is repatriating them, Demeke stated.
More than 1.5 million Ethiopians are believed to be living in Arab countries, it was learned.
Labour and Social Affairs Minister, Ergogie Tesfaye underscored the need to curb illegal human trafficking and smuggling by creating public awareness, strengthening leadership commitment at all levels and enforcing the law.
She revealed that thousands of Ethiopian citizens, including women and children, are being trapped by immoral traffickers and smugglers and facing multiple abuses.
According to Ergogie, prevention of illegal human trafficking and smuggling must be the principal culture of the society.
International Labor Organization Office Director for Ethiopia, Alexio Musindo lauded the commitment of Ethiopia's leadership by mentioning the role the National Council for Prevention and Suppression of Trafficking in Persons and Smuggling of Migrants has been playing to eliminate the problem.
The director advised countries to primarily focus on prevention measures and partner with ILO to implement standards and protocols adopted by the organization to eliminate forced labor of migrants.
"Standards adopted over the years by ILO are important for safe guarding the dignity and rights of migrant workers, including those trafficked and smuggled," he said, adding that in June 2014, ILO has adopted a new legally binding protocol to the Forced Labor Convention of 1930 to strengthen global effort to eliminate forced labor.
Musindo noted that COVID-19 induced economic crisis is putting many people at risk of migrating and trafficking; and smuggling is increasing in many African countries. ILO estimates that the cost of cohesion in terms of lost income to illegal recruitment is 1.5 billion USD in Africa alone.
Members of parliament and chief administrators of regions also attended the conference.