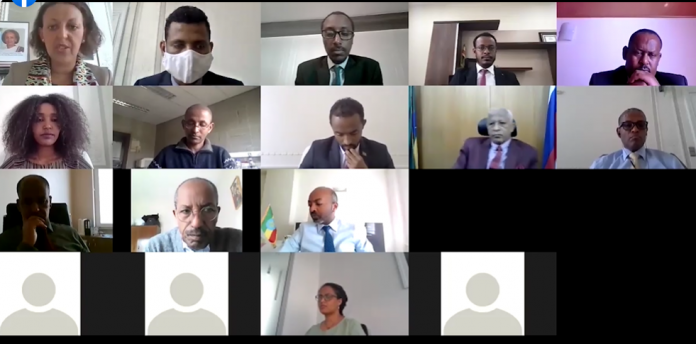 February 27/2021(ENA) Ethiopian Embassy in Brussels has held a webinar to clarify the reality on the ground in Ethiopia, particularly in Tigray region for media houses and think tanks in Belgium.
Attorney General, Gedion Timothewos, Commissioner of Disaster Prevention and Preparedness Commission, Mitiku Kassa  and Director General of Agency for Refugees and Returnees Affairs, Tesfahun Gobezay were the guest speakers.
The Attorney General Gedion briefed the audience about the reform process, the challenges it has been facing and the operation in Tigray from legal and Human Rights points of view.
"We expect the upcoming election will be the culmination of the various democratic and human rights measures we had been taking in the last two years by providing impetus and boost for the reform processes", he said.
Commissioner Mitiku for his part gave an elaborate talk on how the government is extending support to affected people in the region following a triple nexus approach where humanitarian support, peace building, and long-term developments are taken into account.
He said the government has been able to deliver humanitarian support to 3.5 million people to date facilitating license to 135 partners and 29 international NGOs.
Director General of Agency for Refugees and Returnees Affairs, Tesfahun Gobezay also said expounded on the overall policy on refugees in the country and the status of refugee camps in the Tigray region as well as the efforts to repatriate Ethiopians in the Sudan camps.
Contrary to unsubstantiated media rhetoric, he said Ethiopia is well known for welcoming and sheltering refugees and has enacted the most progressive proclamations in the world that allows refugees easier integration with society, access to tertiary level education, and work.
Following presentations by the guest speakers, issues such as the need to investigate alleged human rights violations, the actual humanitarian situation in Tigray, and access to the media were raised by participants and discussed widely.
Ethiopian Ambassador to the Belgium, Luxembourg, and EU institution Hirut Zemene has emphasized the hugely imbalanced coverage of the situation in Ethiopia by various international media houses and think tanks which necessitated the webinar discussion.
Ethiopian Ambassadors in Europe have participated in the discussion, according to ministry of Foreign Affairs.