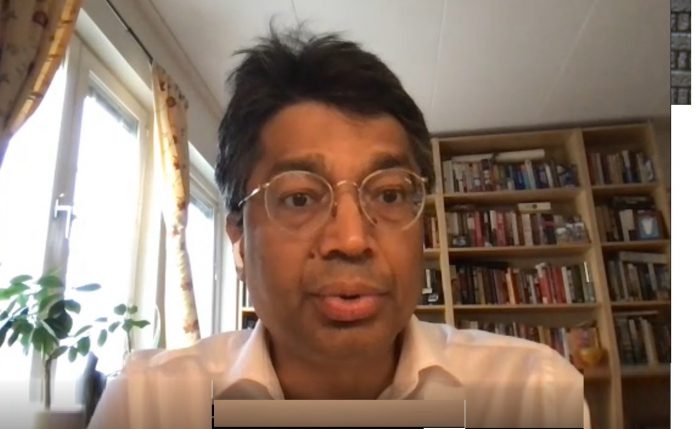 Addis Ababa February 26/2021 (ENA) Sudan, Ethiopia and Egypt should depoliticize the Grand Ethiopian Renaissance Dam (GERD) from their internal politics and cooperate to fairly develop and use the Nile River water, UNESCO Chair on International Water Cooperation Ashok Swain said.
According to him, leaders of the countries have been using the water issue for their internal political gains, complicating the issue and making it difficult to get solution.
"The internal politics of the countries has affected the effort to find solution to the water issue because when the basin country leaders try to use the water for their domestic politics, it makes the water issue much more complicated and challenging," Swain elaborated.
For him, depoliticizing the dam and downplaying it could help de-escalate tensions and defuse inflammatory rhetoric to start negotiating at experts and leaders levels.
According to him,"it's very important that water shouldn't be used for internal politics because this kind of issue should be kept out of internal politics. But when it's already put in the internal politics, the most important thing at this point is for the leaders of the countries to play it down."
The chair said it is good that all the countries realized the construction of the dam almost complete; and filling of the dam's reservoir has begun. At this juncture, cooperation is needed between Ethiopia, Egypt and Sudan.
"The cooperation is a must for a sustainable development and use of the Nile River water," Swain stressed.
As demands to develop projects and use the water for different purposes is increasing, he observed that the countries need to come together, negotiate and work cooperatively on ways of sharing the resource for mutual development.
"There is a need for cooperation among Ethiopia, Sudan and Egypt to develop the Nile water. Without having a cooperative arrangement, this will lead to crisis, conflict and uncertainties. So, it is important that these three countries come together to find a solution," the chair underscored.
He said "it is important that all the countries in the basin find a formula on how to share the water sustainably, which will be in a way good for their agricultural practices, drinking water, hydropower, and also for the ecosystem."
Swain is of the opinion that the African Union, United Nations, United States, and European Union can play positive role in the negotiations.
The international community and regional bloc can also mediate in different ways based on acceptable standards to support the parties reach agreement acceptable for all, he added.
The chair pointed out that after the change of administration in the U.S., new actors and possibilities are evolving and hopefully there will be an agreement with the compromise of the three countries and the support of international and regional actors.