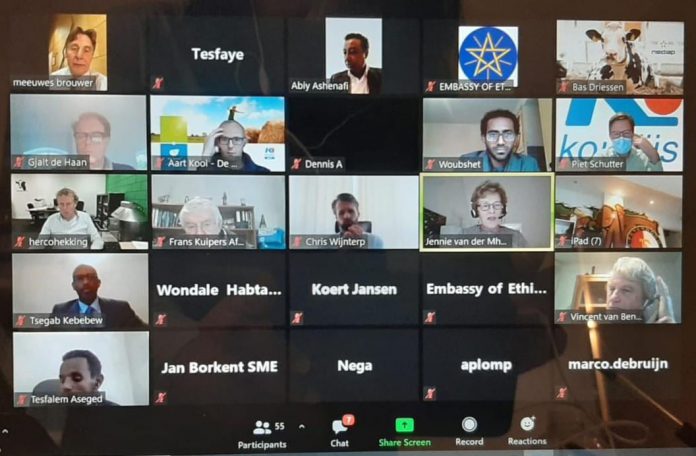 Addis Ababa January 29/2021 (ENA) Ethiopian Embassy in Netherlands held discussion with key Ethiopian and Dutch stakeholders in a webinar to promote the investment opportunities of Ethiopia on agriculture sector.
The webinar, conducted under the title "Ethiopia: Focus on Agricultural Investment", was attended by over 50 individuals composed of Dutch companies and sectoral associations, Dutch business promotion organizations and financial institutions, as well as government officials from Ethiopia and the Netherlands.
In the occasion, Ethiopian Ambassador to the Netherlands, Million Samuel said agriculture is a priority sector for Ethiopia under its extensive reform.
Pointing out that the sector has already attracted many Dutch businesses to Ethiopia particularly in horticulture and floriculture, the ambassador noted there is still potential for more.
State Minister of Agriculture, Wondale Habtamu on his part appreciated the already existing partnership with the Netherlands government and Dutch companies in the area of knowledge transfer in particular the Flying Swans, an agro-logistcs project which facilitates refrigerated export of Ethiopian fruits and vegetables to Europe.
He further invited Dutch businesses to make use of the available opportunities and the best policy environment in Ethiopia.
Director General of Foreign Investment and Technology Transfer at the ministry of Foreign Affairs, Ambassador Ababi Demissie has also delivered a keynote speech on behalf of State Minister, Tsion Teklu.
The ambassador said in the speech that the agriculture sector in Ethiopian has become conducive for investment more than ever before due to the series of reforms underway in modernizing and creating a technologically adaptive agriculture in the country.
During the discussion, senior investment promotion officers at Ethiopian Investment Commission briefed priority areas in agriculture including sesame, dairy, animal feed and poultry, as well as incentives and supports being provided to investors by the Commission.
Some 80 percent of the 85 Dutch companies in Ethiopia are engaged in agriculture, according to Agricultural Counselor in the Embassy of the Netherlands in Addis Ababa, Meeuws Brouwer.
Horticulture, poultry, dairy and agro-business are focus areas of agricultural cooperation between the two countries and expressed readiness to jointly work together to strengthen cooperation, the Counselor underscored.
Furthermore, Jennie Van Der Mheen from Wageningen University and Research highlighted the numerous researches undertaken on Ethiopia's agriculture sector that can be utilized by Dutch companies who wish to learn Ethiopia's potentials in this area.
During the webinar, three Dutch companies who have businesses in Ethiopia shared their experiences, lessons and areas that could be improved, according to Ministry of Foreign Affairs.
The companies have also reiterated the potentials in the sector and expressed their interest to continue engagement with Ethiopia.