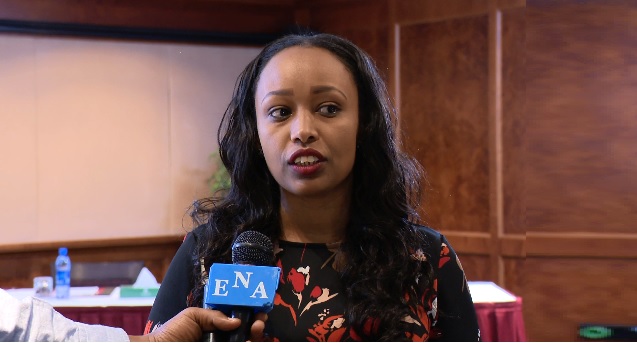 Addis Ababa June 12/2020(ENA) Planning and Development Commission disclosed that Ethiopia expects a 10.2 percent of average annual economic growth over the next ten years. 
The Commissioner, Fistum Assefa made the remark on Thursday, during a discussion held on the draft 10-year Development Plan of the country in the presence of Prime Minister Abiy Ahmed and other high ranking government officials.
According to her, the ten year plan themed 'Ethiopia: An African Beacon of Prosperity', developed based on the performance of previous plans, the nation's vision for 2030, National Policies and Strategies, as well as the various International and Continental agreements.
Though Ethiopia has been registering an annual average economic growth of 9 percent in the previous Growth and Transformation Plan (GTP), it was unable to further sustain the growth, the Commissioner pointed out.
However, the new plan is different from the previous national plans as it is believed to bring about a concrete changes in the living standards of citizens by maintaining an annual economic growth of 10.2 percent over the next ten years, she said.
According to Fisum, Agriculture, Manufacturing Industries, Mining, Tourism, Urban Development, Innovation and Technology are the key development sectors of the ten year plan.
Prime Minister Abiy Ahmed stated that the new plan aims at bringing quality based economic growth; increase production and competitiveness; build a green and climate resilient economy; institutional transformation; ensure fair and equitable opportunities for women and youth; and guarantee private sector led growth.
"With a five pillar focus area serving as foundation for the effective development of other sectors, the plan sets out to capitalize on our existing strengths and abundant resources" Abiy wrote on his Face-Book page.
The energy sector plan is in particular quite ambitious given many of our development needs are heavily reliant on it and energy is a crosscutting need, according to the premier.
"Key factors for the Federal and Regional governments to enable successful implementation of the ten year plan include ensuring the impact of projects and investments undertaken add value to GDP, focus on quality of projects so that expenditures are effective and transforming attitudes from 'battling poverty' narrative towards building multidimensional prosperity" the PM underscored.