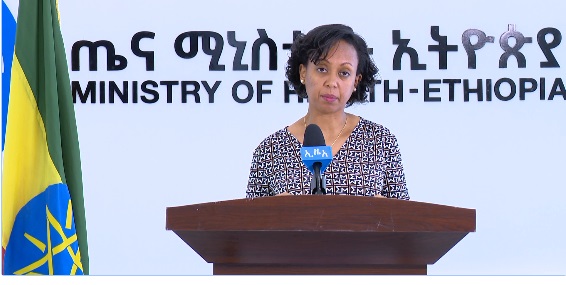 Addis ababa, April 10/2020( ENA)The number of COVID-19 cases in Ethiopia has now risen to 65 with 9 more news cases confirmed today.

Minister of Health, Dr. Lia Tadesse told ENA that the new cases were confirmed from 442 samples tested in the last 24 hours.
She pointed out that all individuals who have been diagnosed with the virus have travel history.
Seven of them are Ethiopian nationals, while the two are Eritrean and Indian nationals, she revealed.
According to the Minister, four Ethiopian nationals, who arrived in the country from Dubai, were picked by surveillance team and have been quarantined in isolation center in Addis Ababa.
The other two Ethiopians have travel history to Turkey and the other one to UK.
A 20-year Indian woman and the 40-year Eritrean man have also travel history to USA and Dubai respectively.
So far 3,232 people have been tested for COVID-19 in Ethiopia, the ministry disclosed.
Recently, 57people are receiving treatment, while one of the two patients has lifted from intensive care unit, she added.
It is to be recalled that out of the total cases, four people have reportedly recovered, two returned to their home country and two of them passed away.
The figure of COVID-19 cases in Africa is over 10,000 and claiming more than 500 lives.
Africa's first case of new coronavirus was recorded in Egypt on 14 February.
Since then a total of 52 African countries have reported cases and "a significant number" have reported cases in multiple provinces.
The World Health Organization (WHO) warned on Wednesday that the virus was slow to reach Africa compared to other parts of the world, but infection has grown exponentially in recent weeks and continues to spread.