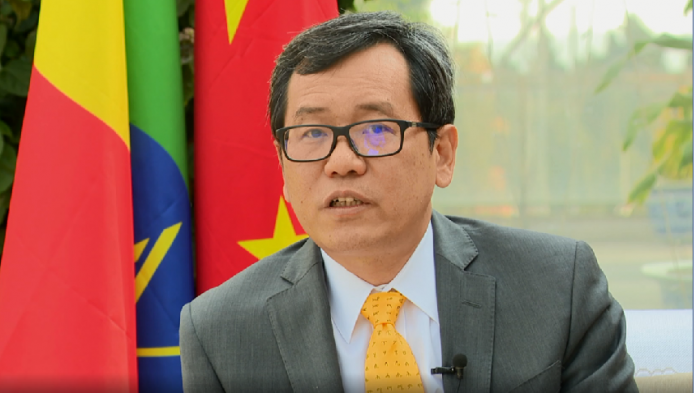 Addis Ababa, March 28/2020(ENA) Ethiopia's solidarity with the government and people of China in the fight against COVID-19 can serve as an impetus to further strengthen and advance bilateral relations, China's Ambassador to Ethiopia said.

In an exclusive interview with ENA, Ambassador Tan Jian said China is grateful to Ethiopia's solidarity and the Chinese people will keep it close to their hearts.
"Ethiopia has demonstrated its support and solidarity with the Chinese government and people and we keep that to our heart and we are very thankful. So I do believe that this kind of solidarity will serve to strengthen our bilateral relations," he elaborated.
The ambassador noted that Ethiopia and China have Comprehensive Strategic Cooperative Partnership, adding that "given this kind of solidarity and support from Ethiopia as well as goodwill our bilateral relations will be further developed and strengthened."
As COVID-19 is an enemy of human beings across the globe, prioritizing cooperation in the public health could be essential, Ambassador Jian stated.
According to the ambassador, China will soon build the Africa Center for Disease Control and Prevention (CDC).
Commending the strong commitment of Ethiopian Airlines by flying to China during the outbreak, he said " that is a good testament to the various strong bonds between the Chinese and Ethiopian people."
Ambassador Jian further stated that "China had started to help Africa build CDC in Addis Ababa before the outbreak of COVID-19. We will expedite our work because this CDC will be very important in Africa's future to fight against the pandemic."
Moreover, China and some charity foundations like Jack Ma Foundation have been supporting medical supplies and sharing lessons learned in the fight against COVID-19, he added.
China's efforts in its fight against the spread of COVID-19 has paid off due to the strong leadership, Ambassador Jian said, adding that public support and sharing information are equally important.
He also pointed out that "we need to further strengthen regional and international cooperation because the virus knows no border and does not need a passport. So, we have to strengthen this kind of cooperation."
Coronavirus (COVID-19) was first identified in China in December 2019, and was recognized as a pandemic by the World Health Organization (WHO) on March 11, 2020.