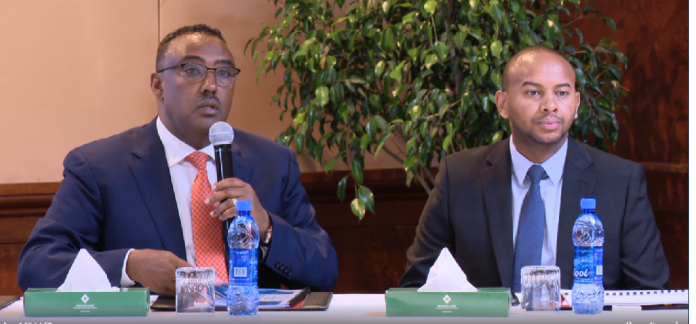 Addis Ababa, March 6/2020 (ENA) Deputy Prime Minister Demeke Mekonnen has urged Jobs Creation Commissioner to keep pace of the registered results and galvanize the involvement of the private sector towards creating sustainable jobs.

The National Jobs Creation Council regular session evaluated today the seven-month performance of Jobs Creation Commission.
National Jobs Creation Council Chairman, Deputy Prime Minister Demeke said remarkable results have been registered thus far, and "we all need to double our efforts in order to keep track of the achievements and move beyond."
The report revealed that 1.67 million jobs were created over the last seven months, accounting for 56 percent of the total 3 million jobs planned to be created this Ethiopian budget year.
Pointing out that 37 percent of the jobs created are temporary, the deputy premier stressed the need to engage in creating sustainable jobs since casual employees will return to be job seekers not before long.
Industry, agriculture, and services are the sectors that created more jobs, it was learned.
The government cannot create all the jobs needed in the country, Demeke noted, adding that "we need to synergize efforts in bringing the private sector on board and facilitate overseas employment with the necessary legal frameworks."
Jobs Creation Commissioner, Ephrem Tekle said the commission, in collaboration with regional states, has attained 91 percent of its seven-month plan; but much remains to be done to sustain the momentum.
He called for the creation of more gender inclusive jobs that benefits women as only 37 percent of the total 91 percent jobs are women.
The jobs created seem closely proportional in rural and urban, 47 and 53 percent respectively.
According to the report presented, overseas employment and ICT are among the least performing, registering only 13 and 7 percent of the plan.
The strategic job creation plan of the commission gives priority to financial provision, resumption of activities of public projects, and internship, among others.