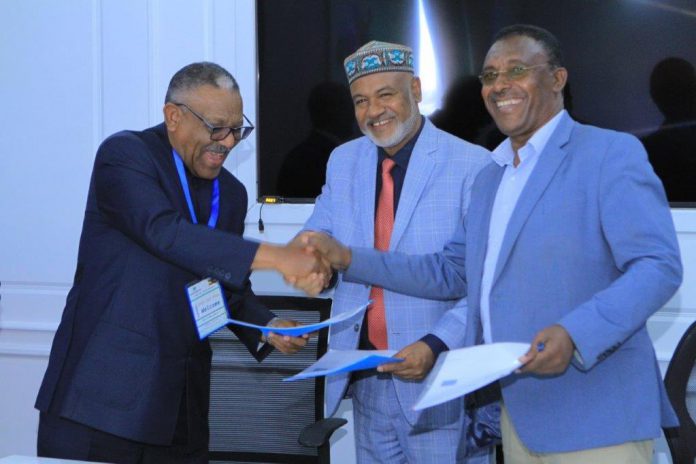 ENA,February 28/2020 Ethio Lease company has signed a memorandum of understanding (MoU) that enables it to provide agriculture equipment to farmer's mechanization centers with Ministry of Agriculture and Ethiopian Agricultural Transformation Agency today.

The MoU was signed among Ethio Lease Chairman Girma Wake, Agriculture State Minister Sani Redi, and Ethiopian Agricultural Transformation Agency (ATA) Senior Director Chimdo Anchala.
Speaking at the signing ceremony, Ethio Lease Chairman Girma Wake said the company has been engaged in lease financing of the agricultural sector since August 2019 with an initial project capital of 150 Million USD for three years.
Ethio Lease will continue working to promote the agricultural modernization and productivity of the country by making available modern agricultural equipment, in collaboration with Ministry of Agriculture and the concerned stakeholders, he added.
According to him, leasing equipment to the mechanization centers has the potential to positively impact the agriculture sector, increase productivity among farmers and ensure significant financial gains for Ethiopia.
The chairman pointed out that Ethio Lease provides modern agricultural equipment with reasonable price to farmers. It has so far provided 9 tractors on lease for farmers, and 48 additional tractors are on their way to the country.
Girma, however, called on the concerned parties to cut the red tape that causes huge waste of time and money on everyone.
Agriculture State Minister Sani Redi said the agreement will enhance the productivity of the agriculture sector by providing agricultural equipment on lease through the Agricultural Transformation Agency's mechanization centers.
The engagement of Ethio Lease company in the agriculture sector helps to promote agricultural modernization and is a practical solution to address the current equipment challenges in the agricultural sectors, he added.
According to the state minister, the company is a role model for other investors since the country has immense potential to develop agricultural mechanization. Of the 74 million hectares of arable land, the land developed through mechanization is not more than 10 percent.
Using agricultural mechanizations increases the productivity of the land to 50-60 percent, Sani stated.
ATA Senior Director Chimdo Anchala said on his part his agency will work with Ethio Lease to identify challenges in agriculture, provide solution, train farmers on agricultural mechanization and proper use and maintenance of the equipment.
Ethio Lease Ethiopian Capital Goods Finance Business is a subsidiary company of African Asset Finance Company (AAFC), which was launched in 2017 to address Africa's under served market for equipment leasing and asset backed lending with Ethiopia as its first market.