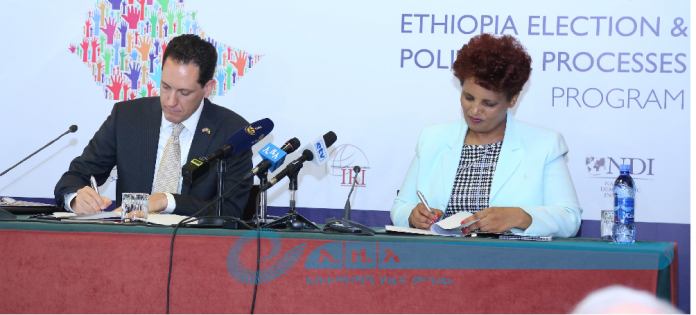 February 28/2020 ( ENA)The Government of the United States of America signed a 30.4 Million USD Memorandum of Understanding (MoU) with National Electoral Board of Ethiopia to support the upcoming elections.

The MoU was signed between Chairperson of NEBE, Birtukan Mideksa and USAID Mission Director, Sean Jones in Addis Ababa today.
The 30.4 million USD grant is to bolster NEBE's effort to efficiently organize, administrator, and conduct peaceful, free, fair and democratic elections in Ethiopia while also supporting political party strengthening and civil society engagement.
Following the signing ceremony, USAID Director Sean Jones said the U.S. government will support NEBE per the agreement for three years by mobilizing some of America's most credible experienced and independent elections-focused organizations.
"The 2020 elections will be the first opportunity for Ethiopians to express their will directly and clearly in the context of courageous set of political and economic reform. Free, fair and credible elections are the best ways for citizens to let their voices to be heard," he said.
He explained that the support will focus on core areas to strengthen Ethiopia's democratic foundation beyond the capacity building for the election.
In this regard, promoting more meaningful participation of all citizens in the political process, harnessing the reach and influence of media and technology to educate the public will be the focuses to be achieved through the support, the Director noted.
Strengthening the capacity of Ethiopian civil society organizations to implement the observation of the 2020 elections and working with political parties to communicate the agendas and principles are also the agendas included in the agreement, he added.
"As you can see, this program not only will strengthen the capacity of NEBE to carry out tasks related to electoral administration. We also commit America's support to Ethiopian citizens' effort to develop long term strategies to contribute constructively and inclusively in the country's path towards a more free and democratic Ethiopia," he said.
NEBE Chairperson, Birtukan Mideksa said the Board is preparing for genuine and credible elections in Ethiopia altering the preceding electoral system of the country.
She said that "We need to do things differently to ensure the people that election is the only way to legitimize power in the country."