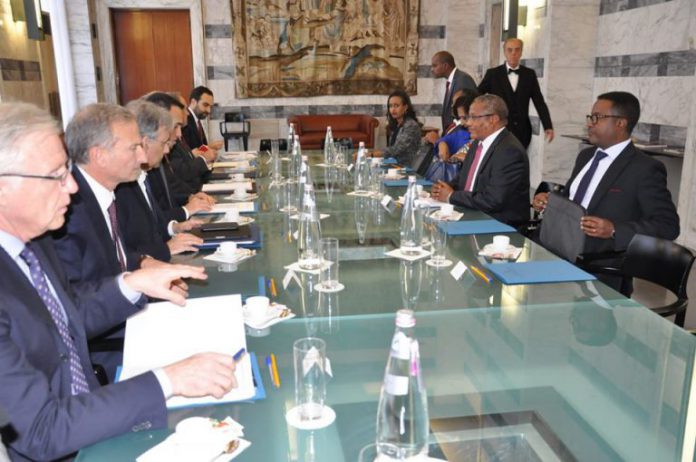 Foreign Minister Gedu Andargachew, who is in Italy for official visit, on Wednesday held talks with his Italian counterpart Luigi Di Maio focusing on bilateral and multilateral issues.
ENA,February 27/2020 The two ministers held cordial talks on ways to further enhancing the bilateral and multilateral cooperation between Ethiopia and Italy, according to a press release sent to ENA.
Following the discussion, Foreign Minister Luigi Di Maio reassured Italian commitment to heighten its support to the ongoing Ethiopia's reform.
He reaffirmed that the government of Italy is ready to assist Ethiopia in capacity building for the upcoming national elections.
Appreciating Ethiopia's role in sustaining peace and stability in the Horn of Africa, he reiterated that Italy will continue to support Ethiopia to this end.
Foreign Minister Gedu Andargachew on his part said Ethiopia is desirous to underpin the long standing relationship between the countries.
Appreciating Italy's support to the sweeping reform in Ethiopia, he called on Italian investors to explore the investment opportunities created through the homegrown economic reform.
Gedu explained about the Great Ethiopian Renaissance Dam (GERD) and Ethiopia's stand on the trilateral negotiations with Sudan and Egypt.
He also reminded the government of Italy to encourage Italian investors to invest in Ethiopia and implement various cooperation agreements signed during the visit of Italian Prime Minister, Giuseppe Conte to Ethiopia last year.